In the spring of 1996, I took a course in 3-Dimensional Design Science taught by Arthur Loeb at the Harvard Extension School. For my final project in this class, I wove a polyhedral shape using pulled warp tapestry techniques. The polyhedron I wove is a degenerate stellation of both a cube and an octahedron called a rhombohedral dodecahedron. Translated, this means it has twelve diamond shaped facets. I chose to leave one of the facets off the version I created and tucked its generating cube inside.
This cartoon that guided me in weaving the sections of the dodecahedron. The diamond that's highlighted in yellow is the one that's "missing" in the final piece. The other highlighted edges form the piece's opening.
Here's an early stage of the weaving. I used 12/6 Fiskgarn-Mattvarp from Glimakra as warp and a 2000 ypp 2 ply tussah from Henry's Attic as weft. A linen warp would probably have provided more body. Each diamond was outlined with twining to help show off the separate facets.
Strips of plastic shopping bags were woven in forming an armature to help keep the diamonds' points from packing down. Strips of heavy paper might have been a better choice for this temporary weft.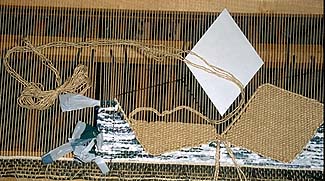 Here the weaving's off the loom and the plastic support wefts have been removed.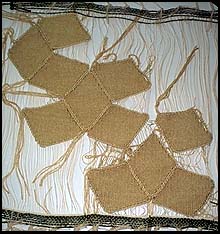 Pulling the warps brings the sections together forming 3-dimensional "whole cloth" for the first time.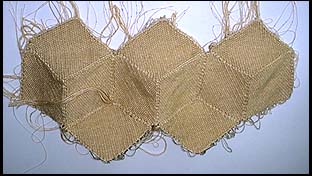 With a few seams and other hand finishing the dodecahedron appears! The fringes are untrimmed warp threads. The red shape peeking out the top is its generating cube (also woven using pulled warp tapestry).